We recently took a stayacation vacation and it was soooo good! It was a perfect mix of relaxation, home projects, and fun.
We had previously talked about a road trip to the beach, but when you have a little boy who gets extremely car sick (he will puke on a 10-15 minute drive!) all we could imagine was a nightmare. So stay home we did. We made sure to do a little bit everything though to make the most of it.
Gryffin had come down with a stomach bug the week before, so the first weekend we did mostly normal things – cleaning and laundry and such (not so much fun). Sunday I had a coffee date with one of my best friends and then a birthday party in the afternoon for one of Gryffin's daycare friends. Once Monday came along though things finally started feeling a little more relaxed – I consider that day 1 of our vacation.
Since we had to pay for it anyway, we did take Gryffin to daycare for part of the week, but we still kept him home a couple days to do some fun things with him too!
Day 1 – Gryffin's Room Makeover!
Since we had moved into our house 2 years ago, poor Gryffin had a plain and super boring bedroom. We had some fun Sesame street bedding for him, but that was about it. His room has been on our list of things to do and having the week off gave us the perfect time to work on it! As you can see, we went with an outer space theme.
Gryffin's thoughts on it? He loves it!! I wish I would have recorded his reaction. Seeing the big smile on his face was completely priceless! Every single day since he asks to go down and see his room. Before he would only go in there to sleep, now he loves to play in it too.
We're not all the way done, so I plan on doing a more in depth post on his room decor when it's all finished.
Day 2 – Movie and Shopping Date
This day felt super, super lazy. We pretty much lounged around the house and took our time getting ready. I had been wanting to see the movie Aladdin so we went to the 11:40 a.m. showing.
Going into it, I knew I would like it, but I didn't know just how much. I ended up loving it! When watching the previews I wasn't sure how I felt about the cast they chose, but after seeing the movie I honestly can't picture anyone else! Before the movie I was skeptical of Will Smith as the Genie. There's no replacing Robert Williams, but Will Smith did a fantastic job and truly made it his own. We plan on buying the movie when it comes out, and the sound track.
After the movie we took advantage of the time we had before getting Gryffin from daycare and went to the mall and Barnes & Noble since we were right there. We shared a pretzel and cheese and walked around. It was just nice to spend time together just the two of us.
Day 3 – Family Day!
We had made plans with friends of ours and their two little boys and went Jump and Bounce, an indoor trampoline park. I say trampoline park, but really it was a bunch of giant bounce houses and a huge blow-up slide.
Gryffin is a pretty timid child so he was pretty skeptical of everything at first. I took him on the giant bouncy with a basket ball hoop and threw some balls around for a while, then he went in the small child play area for a while, and then "drove" in a pink car.
I couldn't get him to go down the giant slide until the very I end. I decided I would suck it up and carry him all the way to the top (I myself am afraid of heights, but I didn't want him to miss out on something I knew he would have fun with!). I carried him up the first time and went down with him. He was still a little nervous, but willing to go up again – he finally smiled that time! Next thing I know he was happy to climb up the "stairs" all by himself with me behind him. Finally by the end he was going up and down all by himself and having the time of his life!
We went to get some McDonald's and headed back to our house to hang out for a bit longer. Our friends had to leave mid-afternoon, so after nap time I called up my brother to see if he and the boys (boys being my nephews) wanted to go to the park with us. Yes! So, we went and got Subway on the way and ate at the park. It was a great way to end the day!
This was, by far, the funnest day of the week! It was our first time there and I only wish that we had gone sooner! We had a blast! Unfortunately we didn't get a single picture, but that just means we were truly in the moment and soaking up our time there together.
**Just a note: since Mikey and I didn't take a single picture, all photos are from Silverwood and their website.
After walking around a while and trying to figure out what was where (I totally regret not picking up a park map), we rented a locker to put our stuff in and headed straight for the lazy river.
Elkhorn Creek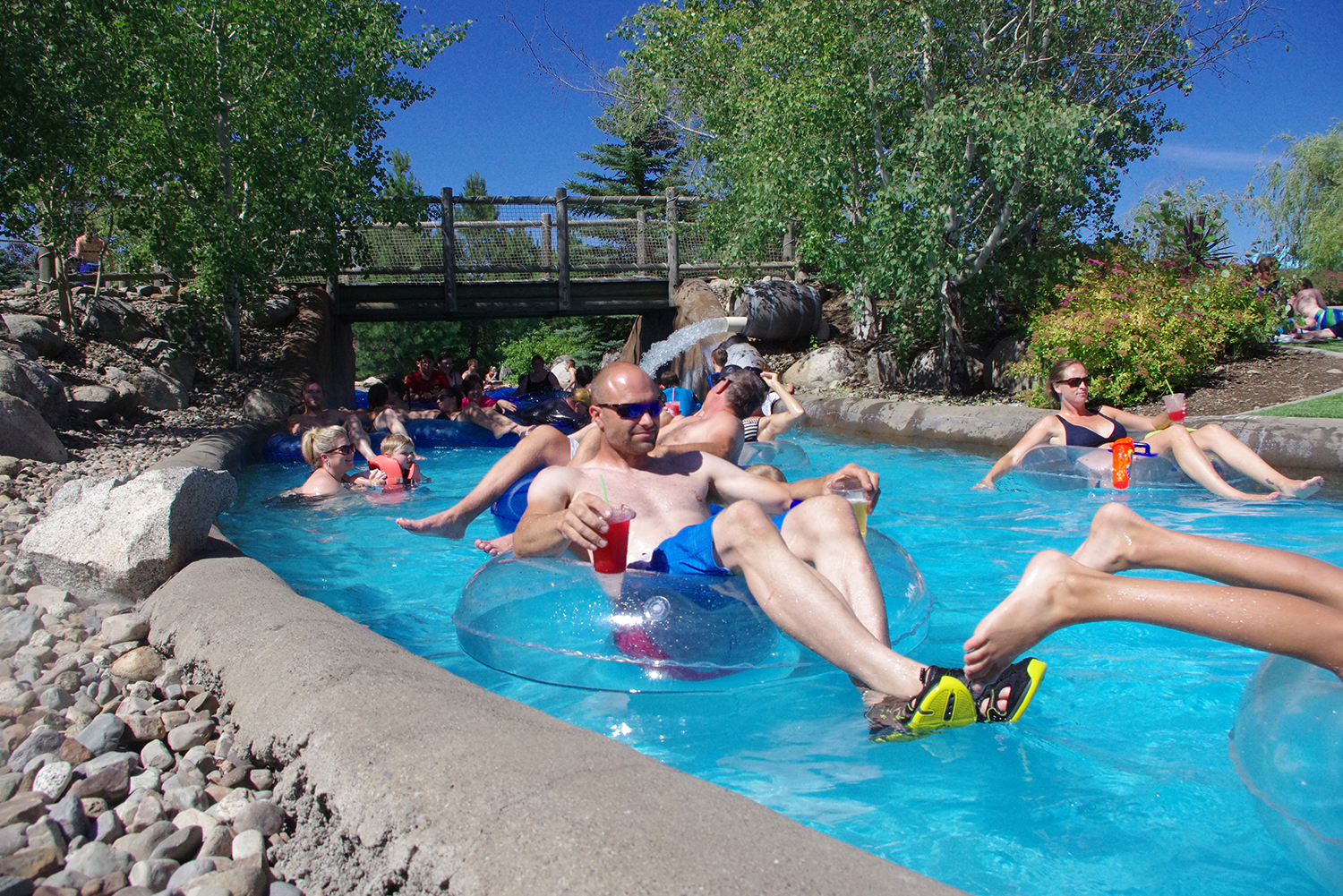 I mean, what better way to start off, right?! After two rounds we figured it was time to hit up something bigger/better.
Avalanche Mountain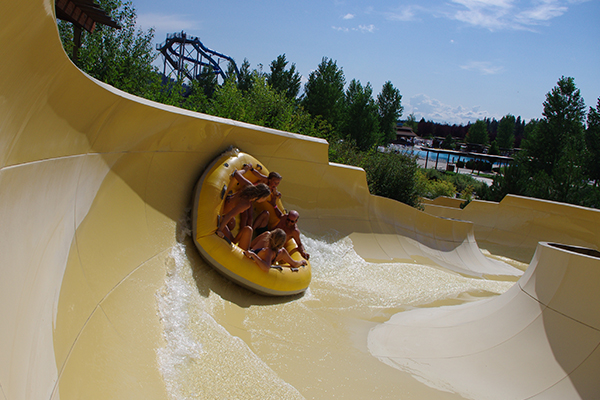 This was a fun one! Since you can fit 4 people in the tube we were actually able to cut in line since there was another couple ahead of us that needed two more people. The more the merrier right?! I liked this one!
Next we decided to explore a little more and went to the other side of the park for the more traditional rides. Next up…
Roaring Creek Log Flume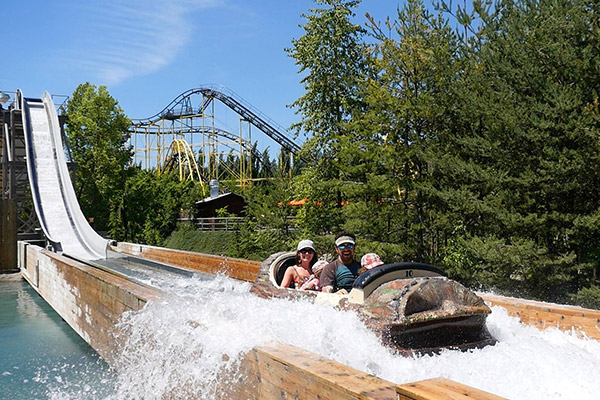 Obviously with only a 40 foot drop, this was a milder ride, but it was fun! You better believe I screamed my head off going down that little drop right there. Honestly, you would have thought I was on the corkscrew ride…
Lunch – Subs & Spuds
This was the most disappointing part of the day. We were only the 4th/5th people in line and we waited about 30 minutes for a practically pre-made sandwich. The people in front of us were being difficult and changing their mind on what they wanted and, to top it off, the poor kid working the stand was clearly new – not that it was his fault at all, I actually felt bad for him, it just didn't help.
Next we went and got back into the lazy river. Clearly this was our favorite part. It was so relaxing just floating by. *happy sigh*
Ricochet Rapids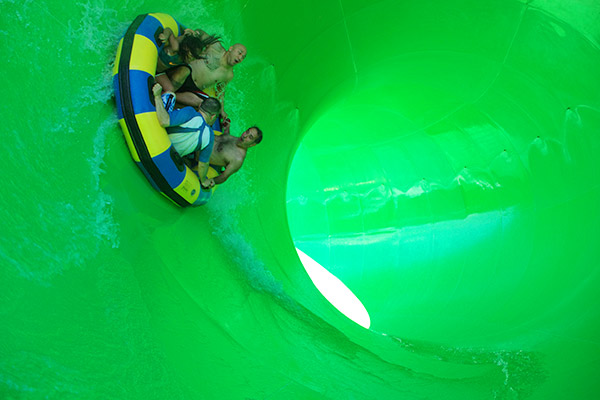 Next we headed to another tube ride. This was a bit more intense than I was expecting. First, it was a really long line (felt like a 45 minute wait, give or take) and I quickly regretted not getting in line earlier that morning right after Avalanche Mountain, but it was fine, lines are inevitable.
When it was my and Mikey's turn, we climbed in and they pushed us off (just the two of us this time). Unfortunately the tube immediately turned so my back was facing down the slide, so I had absolutely no idea what was coming up. The first was a very small corner but I made sure to scream at the top of my lungs. I wish I could have taken a picture of the girls faces who were next, because their mouths dropped open and had a slight look of doom. Ha!
So down we went, we were up one side and down the other, I couldn't see a blasted thing except for Mikey's face. After a minute of literally ricocheting down Mikey yells "Oh no! Watch out!" Then I heard loud gushing water and just in time I close my eyes and held my breath. I couldn't breath for a split second as my head was under the "waterfall". I started feeling motion sick but quickly realized I had my eyes still closed. The second I opened them I immediately felt better but it was a challenge keeping them open because I was paranoid we were going to run into another waterfall as I couldn't see what else was coming. A split second later we shot out of the tunnel and we were done. I was glad that was over.
I might do that ride again…but I also might not lol.
There were more rides we wanted to go on but we were also getting short on time, so we decided just to walk around and explore some more. We ended with a couple Slurpee's and strolled back to the car.
Our car was a sauna! Our car registered the temperature at 104 degrees, what a great day to spend in the water! We happily drove home and changed before picking our little boy up from daycare.
Next time we'll take him with us. ;)
We wanted to make sure to squeeze in at least one more fun day with Gryffin so we planned a day to go to the new aquarium that opened. In the grand scheme of aquarium's it's a pretty small one, however, considering its location in a mall, it's a decent size.
Gryffin really liked looking at all the colorful fish, especially the clown and angle fishes. My personal favorite part was petting the stingray's. They also had some lizards and a turtle you could pet. Not to mention a bird exhibit as well.
Gryffin especially liked the fun water tables they had.
He had missed his nap time otherwise I think his reacations to everything would have been a bit more animated, but I could tell he liked it!
Ending the Weekend
Saturday came and I was exhausted, so between doing laundry and napping we didn't do much else. Sunday was pouring rain pretty much all day so we stayed in and just got ready for the week.
Overall we had a great time. Not quite your typical vacation, but definitely not bad! Can't wait for our next one!